Admissions
Consultation for Admissions arrangements 2025-2026
Engage Enrich Excel Academies (EEEA), as the admission authority for all schools within the Multi Academy Trust (MAT), are conducting a full consultation on admission arrangements, including proposed changes for The Cambridge Primary School. The details of this consultation can be found in the two documents below.
EEEA - Consultation Document 2025
Admissions Policy 2025/2026 Consultation Version
What others have said...
"We believe my son will succeed in this school due to its positive feel. When visiting it had a friendly feel and the children appeared happy. My son particularly liked the library. We would also like to join the adventure of this new school.." 2020 Applicant
"As a parent I want my child to achieve his highest potential in a safe, caring and supporting environment. Your values and vision give me a sense of peace that my child will thrive while being in a happy, respectful environment. I have heard so many positive comments from people that I know about your school and it will make me really happy if my son gets to be part of it." 2020 Applicant
"I have always loved the look of this school and have family and friends who live in the new development. I believe [my child] will excel here and truly believe its where she should be. Her nursery have highly recommended this school to us, which we have taken very seriously. Please consider her!." 2020 Applicant
"We attended the prospective parent information evening and we think [our child] will be enjoying going to this school. We felt that this school provides a good learning environment. The school location is also convenient, is en route to where I work." 2020 Applicant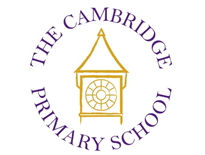 If your child was born between 1 September 2019 and 31 August 2020, they will be eligible to start school in the academic year September 2024
At The Cambridge Primary, we strive to provide for your child the best education possible in an excellent learning environment. Our vision and values are growing and developing as the school grows and reflects those within the community. The Cambridge Primary School is a safe, happy, respectful environment, which aims to combine the life experiences and values of our children and families with the school culture. To achieve this inclusive environment, we respect and value the differences and diversity within our community.
We aim to help children develop their own identity, and create a sense of belonging in an environment which supports their development and prepares them for their lifelong learning journey.
The Cambridge Primary School gives all pupils the opportunity to develop enquiring minds, building on their natural curiosity and confidence with an aim to create positive, respectful relationships which make them feel valued.
We would welcome the opportunity to meet with you and show you around our wonderful school.
Prospective Parent Tours 2024:
If you are interested in applying for a Reception place for your child at The Cambridge Primary School for September 2024 and would like to find out more, come along to our Prospective Parent Information Evening on Monday 9th October 6.30pm.
Following our information evening, we will be running several tours:
Thursday 12th October, 9.30am or 11.15am
Wednesday 18th October, 9.30am or 11.15am
Tuesday 7th November, 9.30am
Friday 10th November, 11.15am
If you would like to book one of our school tours, please contact us by email or phone.
*More information can be found below*
Applications for Reception open
1st November 2023
Deadline for main round admissions
15th January 2024
More information can be found on Hampshire County Council Admissions website: https://www.hants.gov.uk/educationandlearning/admissions/applicationprocess/yearR
Alternatively, if you are unable to make one of our tours, we have a prospective parent video (created in September 2020).

In year admissions
If you're seeking a school placement during the academic year, you'll need to complete an In-Year Application. All such applications are handled by Hampshire County Council, who manage this process on behalf of the school. For more information on school admissions, feel free to contact us on (01252 314884), and we can discuss your options. Alternatively, you can visit the website provided, which offers details on the application process, guidance information, and a catchment area finder.
https://www.hants.gov.uk/educationandlearning/admissions/applicationprocess/inyear
A hard copy of this form is available by contacting the school.
Upon receipt of an in-year application, the school will aim to notify the parents of the outcome of their application in writing within 10 school days, but applicants must be notified in writing within 15 school days.
Where an application is refused, there is the right to appeal. Details of how to appeal can be found below.
All in-year appeals will be heard within 30 school days.
Where an applicant is offered a school place following an in-year application, and the offer is accepted, arrangements will be made for the child to start school as soon as possible, particularly where the child is out of school.
Appeals
Any parent or guardian who has been refused a school place for their child has the right to appeal the decision. Appeals can be lodged at any time. Surrey Appeals Service organises our school appeals on our behalf. Please read the guidance notes below.
Appeal guidance notes for parents and carers.
If your child is in KS1, please follow this link for more information on the appeals process.
Key Stage 1 Appeal aged 4 to 7 at the time of school admission
If your child is in KS2, please follow this link for more information on the appeals process.
Key Stage 2 Appeal aged 7 - 16 at the time of school admission
APPEALS for reception 2024/25
Appeals for September 2024 resulting from year of entry or transfer applications:
| | | | |
| --- | --- | --- | --- |
| School | Offer | Appeals lodged by | Appeals to be heard by |
| Secondary | 1 March 2024 | 15 April 2024 | 18 June 2024 (40 school days) |
| Primary | 16 April 2024 | 15 May 2024 | 17 July 2024 (40 school days) |
NB: Appeals will not start being heard until after the relevant closing date has passed. Appeals lodged after these dates will be heard within 40 school days of the appeal deadline or 30 school days of being lodged, whichever is the latter date.
Appellants will be sent notification of their appeal hearing at least 10 clear school days in advance of the hearing. Appellants will be sent a copy of the school's case 7 clear working days in advance of the hearing.
Appellants must ensure that any further evidence, not included with their initial appeal, is received by 5pm on the day notified in the letter with details of the hearing. Any additional evidence or information received after this date might not be considered at the appeal hearing.
Our admissions policies can be found below.