The Cambridge Primary - Officially Opened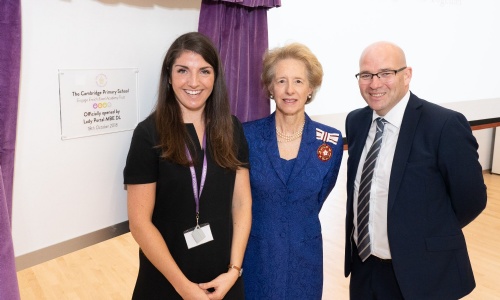 Official Opening – Thursday 18th October 2018
On Thursday 18th October 2018, The Cambridge Primary School welcomed Lady Portal MBE DL, representing HM Lord-Lieutenant of Hampshire, Mayor of Rushmoor Steve Masterson, Hampshire County Council's Executive Member for Education and Skills Stephen Reid, and MP Leo Docherty to name but a few of the distinguished guests and visitors to celebrate the Official Opening of The Cambridge Primary School, built in the heart of the new Wellesley neighbourhood. The building of The Cambridge Primary School, a collaboration between various stakeholders and has been an outstanding success.
The school celebrated the occasion by the unveiling of the plaque by Lady Portal, burying a time capsule and a performance from Purple Harmony (Ravenscote Junior School's choir - one of the Engage Enrich Excel Academy Trust schools).
"The Official Opening marks the start of a very exciting, long, successful journey for The Cambridge Primary School and the community it serves." Sarah Kennedy, Head Teacher of The Cambridge Primary School.
"Grainger are extremely proud to have been involved in such a wonderful addition to the Wellesley development. We look forward to seeing the school and its students grow and flourish with the site over the coming years." Alan Chitson, Grainger Development Manager
Councillor Reid said: "I am delighted to see this remarkable new school in action. It represents a £10.6 million investment ensuring that local children, including those moving in to new housing in the area, will have a school place close to where they live.
"Hampshire has a first-class in-house design team and they have brought years of experience to bear in designing this fine new building, which is one of the best I have seen. As well as providing a motivational environment for learning it has also been designed to be energy-efficient and attractive to view.
Click here to view photos from the event.